Sterling works with ID.me to verify candidates as part of their employment background check. The role of ID.me is exclusively regarding identity verification; ID.me does not conduct background checks.
Learn about our security infrastructure and how ID.me uses federally compliant information protection practices to safeguard your personal information.
Before you verify
To verify your identity for Sterling, you'll need to provide specific information and up-to-date documents. We recommend gathering any necessary documents before you begin the verification process. You can verify your identity using either your phone number or identity documents:
Verifying with a phone number is the most common verification method and only takes a few minutes. To verify, you'll need:
A mobile phone that has a camera or a computer with a webcam
U.S. Phone Number
Current U.S. Address
To verify using identity documents, you'll need:
A mobile phone that has a camera or a computer with a webcam
Photo ID (driver's license, passport, passport card, or state ID)
Current U.S. Address
Sign in to ID.me
Select Click here to begin from the identity verification email you received from Sterling.
Sign in to ID.me:
Set up multi-factor authentication (MFA) to further protect your account. For step-by-step instructions for setting up MFA, select one of the following MFA methods:
Verify your identity for Sterling
You can choose from four methods to verify your identity. To verify your identity, you need to provide a phone number or document, such as a driver's license or passport.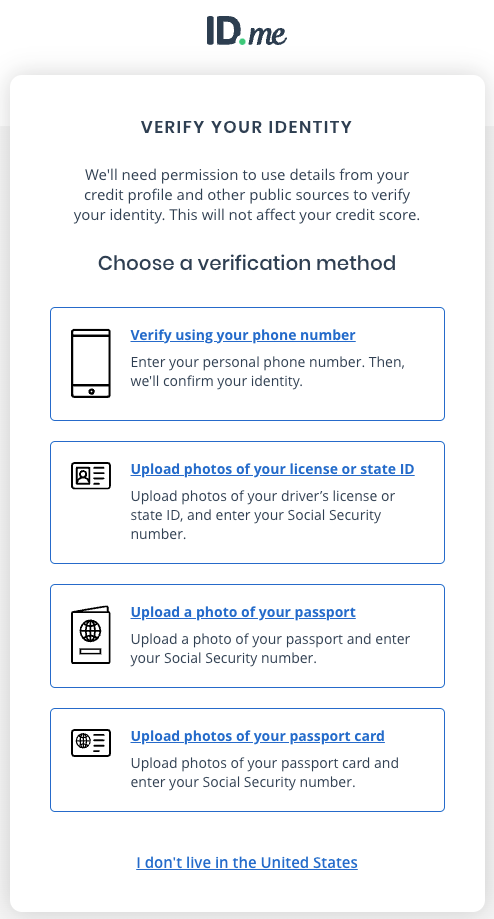 Select the method you would like to use to verify and review the respective steps below.
Select the

Phone number

tab to verify using your phone number.

For all other verification methods, select the Identity documents

tab.
Note: Note: If you don't have a US address, phone number, or SSN, select I don't live in the United States to complete verification on a video call.
Enter your phone number and date of birth.
ID.me will text you a link from a 5-digit number.
Select the link to verify your identity.
Select the photo ID you'd like to submit: driver's license, state-issued ID, passport, or passport card.
Submit a photo of your photo ID using the camera on your smartphone, or upload an existing photo from your current device. For driver's licenses, state-issued IDs, or passport cards—upload front and back photos.
When uploading documents:

Confirm that the information on your ID is clearly legible in the photo and select Continue.
If prompted, provide your Social Security Number (SSN). Providing your SSN helps ID.me further protect your account from duplication—whether accidentally by you or in a malicious attempt by someone pretending to be you.
Confirm your information:
After you're verified, go back to Sterling and sign in with your ID.me account to consent to sharing your information and access the application. This step securely shares your identity information with Sterling.
Review the details and make sure they are correct. If you see something that is incorrect, you can change it by selecting Edit.
After confirming your information is correct, select Continue.
Select Allow to send your data to Sterling.
About identity verification
During the verification process, you will be asked to share your information with Sterling. ID.me's next-generation identity platform meets the highest federal standards for online identity proofing and authentication. In addition, ID.me has built rigorous security and privacy requirements into our technology. Learn more about ID.me's Privacy Bill of Rights and how your information is protected.
How ID.me uses your information
After you verify your identity with ID.me, you'll receive a request for your consent to share information about you with the partner you verified with. For example, if you verified with Sterling to get a background check during employment onboarding, Sterling will ask for consent to receive your information. ID.me will only share the information that is present on the consent screen. You will need to agree to this consent to provide your verified identity to Sterling.
With your permission, ID.me uses your information to:
Verify and authenticate your identity when you are creating an account or using ID.me services
Prevent fraudulent uses and the creation of multiple accounts for fraudulent purposes
Comply with legal obligations or legal requests from law enforcement or government entities
How ID.me protects your information
At ID.me, a top priority is user information security. The systems that process and store user information are covered by security controls that are continuously monitored for effectiveness by a dedicated security team.
Our commitment to security is demonstrated by our compliance with security frameworks such as ISO27001, FedRAMP, Kantara, and SOC2 Trust Services Criteria. ID.me uses certified independent third parties to assess conformance with our security controls including conducting penetration tests.
What is Biometric Information?
Biometric Information is a form of data related to biometric characteristics which may be used to identify you. Biometric Information includes things like fingerprints, voiceprints, scans of a hand, facial geometry recognition, and iris or retina recognition. Specifically, ID.me may collect Biometric Information such as facial geometry from users during certain verification processes for ID.me services.
What does agreeing to biometric consent mean?
To access and use certain ID.me services, it is required that some users provide consent for ID.me to collect and process a user's Biometric Information. When you provide consent to ID.me to collect your Biometric Information, you agree that ID.me can collect, process, and (where necessary) disclose, your Biometric Information as described in our Biometric Information Privacy Policy. Users are able to revoke this permission by deleting their ID.me account.