When verifying your identity, you may need to take a selfie or video selfie to prove you are you. Taking high-quality selfies makes it more likely they'll get approved. This article explains what to do if you have trouble taking or submitting your selfie.
Selfie types
For ID.me partners that require a selfie, you'll most often need to take a "live" video selfie. You'll be prompted with "Begin video selfie with liveness detection?". Select Scan my face when you are ready to take your selfie.
Some ID.me partners only require a still photo selfie.
Selfie best practices
Follow our best practices to help ensure your selfie gets approved. To learn more, visit Best practices for taking a selfie.
Keep in mind:
Methods to take a selfie
You can take a selfie using a: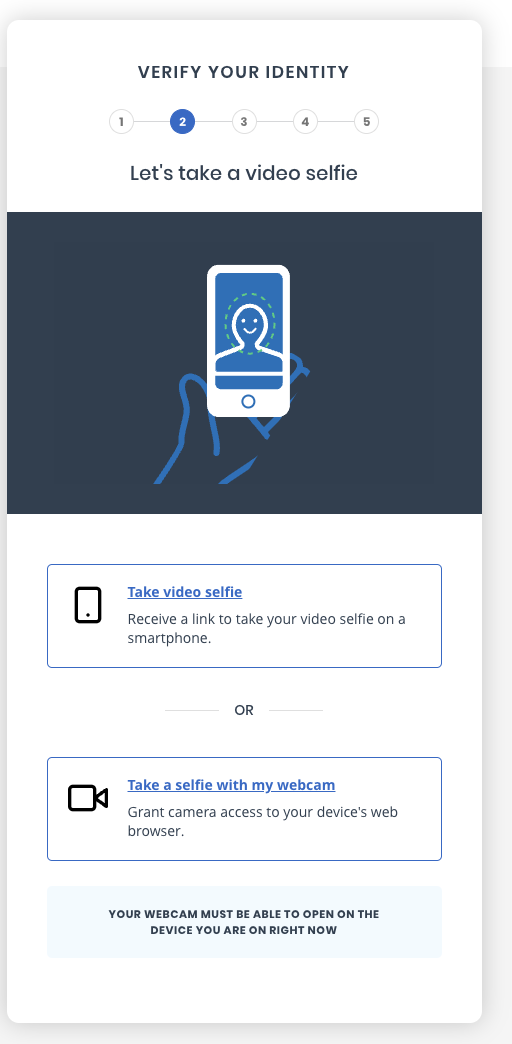 I didn't receive a text message
When you choose to take a selfie with a smartphone, you'll enter a phone number and receive a text message to that number. For steps to troubleshoot, visit I didn't receive a text message to take a photo or selfie.
My selfie was rejected
If your selfie submission was rejected, you can retry using selfie best practices. If ID.me is unable to capture your selfie after multiple attempts, you will see "Unable To Capture Your Selfie".
To finish submitting your selfie:
Select Continue and enter additional information.
After completing the rest of the Self-Service steps, select Join video call.



Note: Once you see this screen, you can return to complete your video call at any time. If you cannot connect to your video call, you will also receive an email to return at your convenience.

After you finish your video call, follow the prompts to complete your verification.
Try a different device
If you tried taking a selfie with a smartphone and it didn't work, try taking the selfie with a computer that has a webcam. For example, many laptop computers and tablets have a built-in camera.
Likewise, if using a computer webcam didn't work, try taking a selfie using a smartphone.