The threat of online scams and identity theft continues to grow. One form of deception that's gaining prominence is social engineering. This method relies on mind games to trick people into revealing sensitive information, performing actions, or falling victim to financial scams. Here, we'll explain the basics of social engineering scams, including common tactics used by fraudsters and warning signs to help you avoid scams.
Understanding Social Engineering
Social engineering is a method of theft that exploits human psychology rather than technical vulnerabilities. Scammers exploit trust, fear, or a sense of urgency to manipulate their victims into taking actions that benefit the scammer. Social engineering can occur through emails, text messages, and especially social media platforms, which provide scammers with a large audience and an effective disguise.
Some common social engineering tactics include fake job postings, fake apartment listings, gift card scams, sweepstakes, and more. Fraudsters take advantage of people's desire for things like employment or housing by posting enticing opportunities that appear legitimate. They place ads featuring attractive benefits, high salaries, or affordable prices to lure in unsuspecting victims.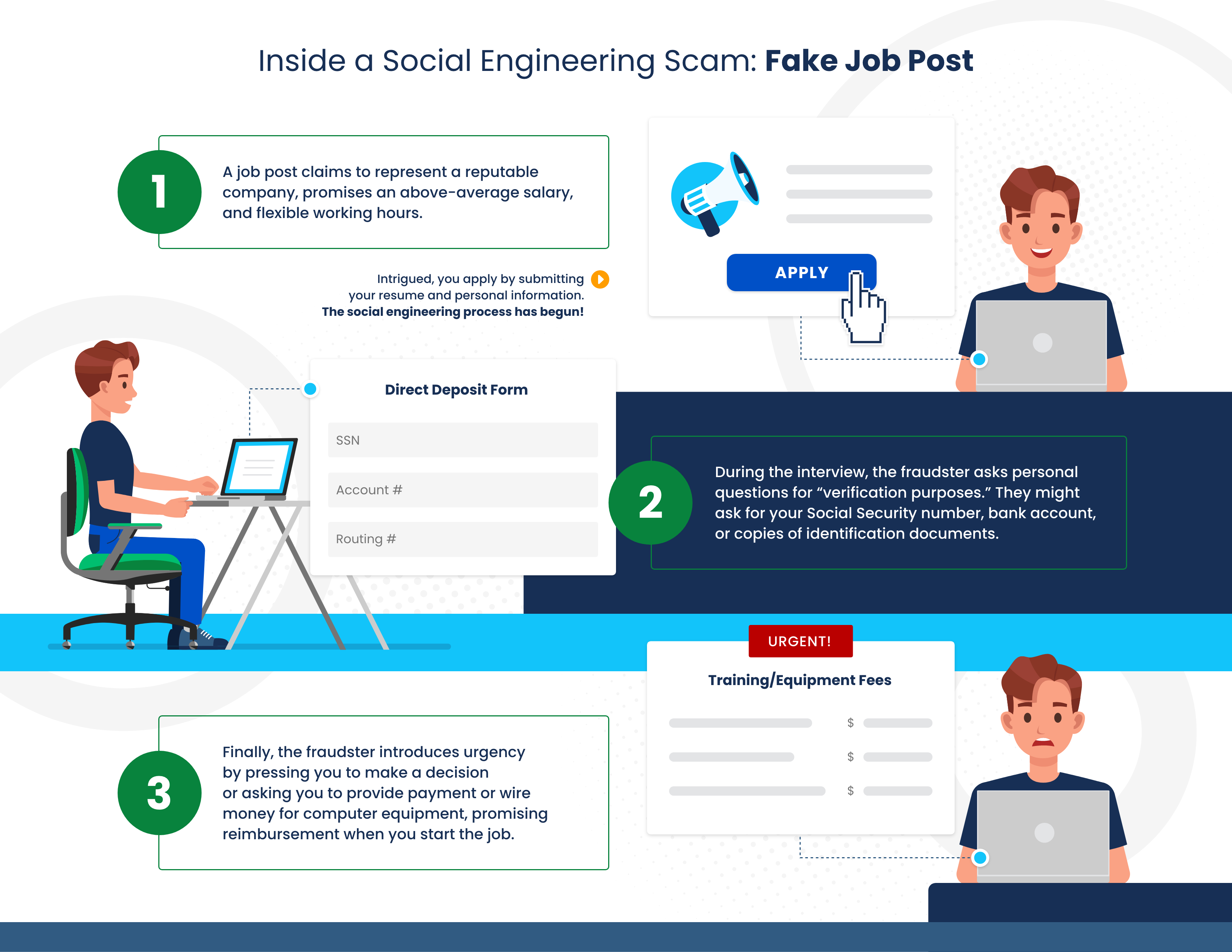 Warning Signs of a Social Engineering Scam
There are several warning signs that can help you identify potentially fraudulent activities:
Unsolicited communication
If you receive unexpected emails, text messages, or phone calls claiming to offer incredible deals, prizes, or financial opportunities, be cautious. Unsolicited contact is often a red flag, especially if it asks for personal information or money.
Urgency and pressure
Scammers often create a sense of urgency, pressuring victims to act quickly without allowing time for thorough research or consideration. Be cautious of high-pressure situations and take the time to verify the information independently.
Poor communication and spelling errors
Pay attention to the quality of communication. Scammers may have poor grammar, spelling errors, or inconsistent messaging, which can indicate fraudulent activity.
Poorly designed websites or emails
Scammers may use poorly designed websites or emails with low-quality graphics, incorrect branding, or an unprofessional appearance. Legitimate companies usually invest in creating a professional online presence. Compare logos and emails you receive to official websites and communications from that company.
Suspicious URLs and email addresses
Be wary of emails, links, or websites with unusual or suspicious domain names. Scammers may create web addresses that resemble legitimate companies but contain slight variations. Always double-check the website's URL and email sender's address for authenticity. You can hover over a hyperlink before clicking to ensure it will direct you to a legitimate website.
Unusual payment methods
Exercise caution if someone asks you to make payments through unconventional methods like wire transfers, gift cards, or cryptocurrency. Scammers favor these methods because of their lack of traceability.
Staying Vigilant
Understanding the basics of social engineering can help you protect yourself from becoming a victim. By recognizing the warning signs and maintaining a healthy skepticism, you can protect yourself from these fraudulent activities. Stay vigilant and remember that if something seems too good to be true, it probably is.
Has your ID.me Account Been Compromised?
ID.me can investigate if you suspect someone tried to create an account using your information. Learn more.
Note: This post serves informational purposes only and should not be considered legal or professional advice. If you suspect you have been scammed or are a victim of fraud, contact local authorities or seek guidance from relevant professionals.