Verify your teacher status to access exclusive discounts in ID.me Shop. You can verify as a teacher, principal, school employee, or university or college professor. This article explains how to verify your teacher status.
You will start the process in ID.me Shop, go to the partner shop for the offer you're interested in, then follow the prompts on the partner page to complete verification and redeem your offer.
1. Go to ID.me Shop
To get started:
Go to the

ID.me Shop Teachers discounts page

or

search for discounts

, and filter for teacher discounts only.
Browse the stores that offer teacher discounts. Each store will show how much their discount is.
When you find a discount you'd like to use, select Unlock to Save or Shop Now. You'll be redirected to the partner's website.
When prompted, select Verify with ID.me, usually at checkout. You may need to also select that you are verifying for teacher status. You will be redirected to the ID.me sign in page.
2. Verify teacher status
To verify your teacher status:
Sign in to your ID.me account if you already have one. If you don't have an account select Create an ID.me account, then

confirm your email address

.
Select I am licensed by my state, or select I do not have my state license number to verify by uploading documentation.

In the dropdown, select the state where you are an educator.
Select Begin and follow the prompts to enter your personal and teacher information, including your state license or certification number, if applicable.

If you choose to upload documents, make sure to use a document that is acceptable for your job title or position. Review the

acceptable documents to verify teacher status

.

You'll see the screen below if your teacher verification is successful.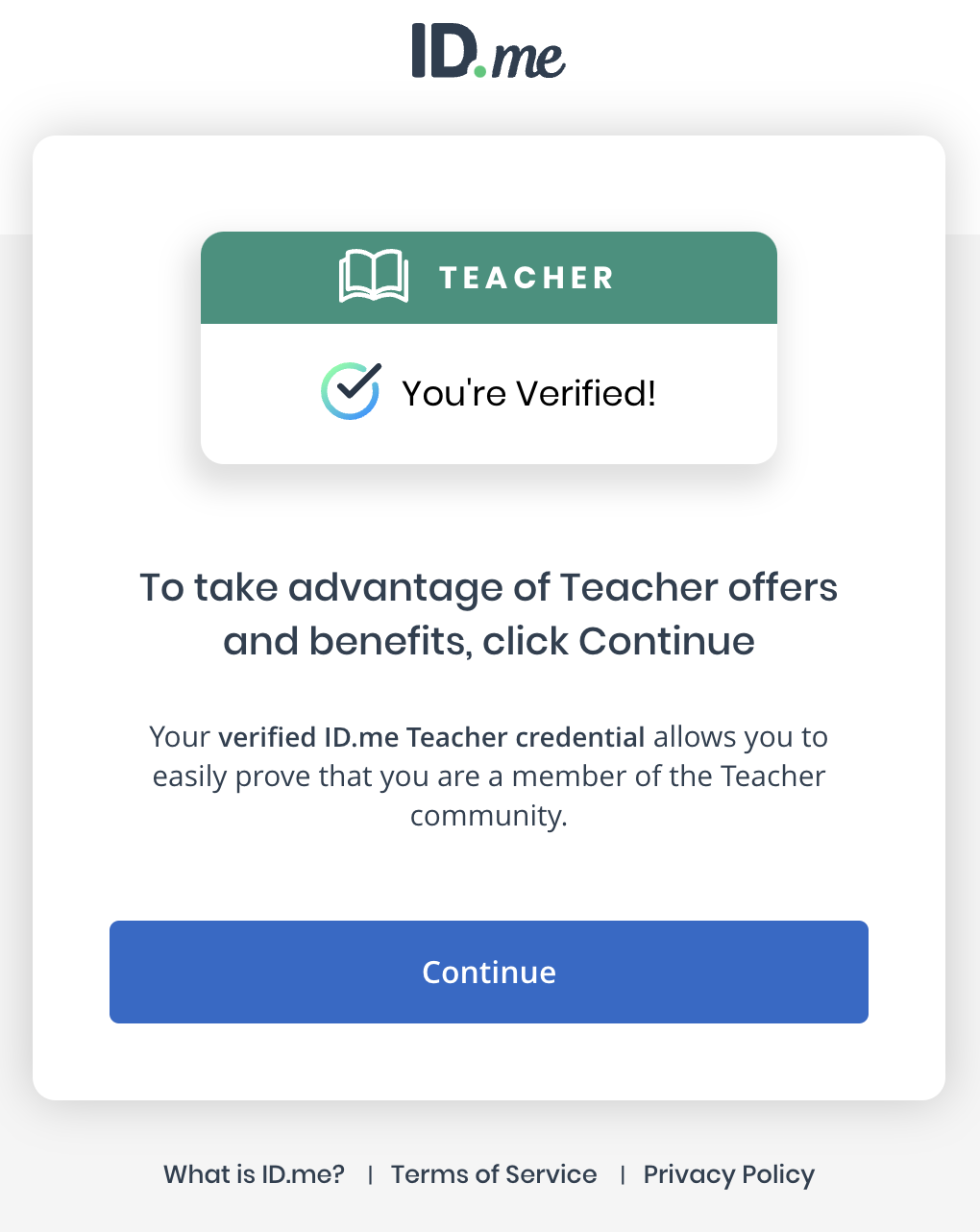 Troubleshooting teacher verification
For issues verifying your teacher status, visit Troubleshooting teacher verification.
My discount isn't working
If the teacher discount you tried to use isn't working, visit I'm having trouble claiming a discount.
Note: While ID.me can help with all community verification issues, we recommend contacting the brand or store's support team directly for issues claiming your discount.