During the verification process, sometimes you might be asked to take a live video selfie (a photo of your face) to submit along with your documents. This article includes how to submit a selfie to ID.me.
If you do not have access to a smartphone to take a selfie, you can also take a selfie using a computer's webcam. For more information, visit How do I take a selfie using a webcam?
Take a selfie
To take and submit a selfie with a smartphone:
Select Take a selfie with my phone.
Enter the phone number of the device you will use to take a selfie, then select Continue.
Check for a text message from ID.me sent to the phone number you submit, then tap on the link in the text message.


Note: You may need to grant permission to allow the selfie to be taken on your device.

Select Continue and hold the phone in front of your face to scan it, then wait until you see a green checkmark.


Note: Sometimes you will be required to take a still selfie instead, which is simply taking a photo of your face then submitting it. Review your submission then select Continue.

After you submit your selfie, return to the original or previous web browser (either on a computer or a smartphone) to finish the verification process.
Selfie troubleshooting
If your selfie submission was rejected, you can retry using selfie best practices. If ID.me is unable to capture your selfie after multiple attempts, you will see "Unable To Capture Your Selfie".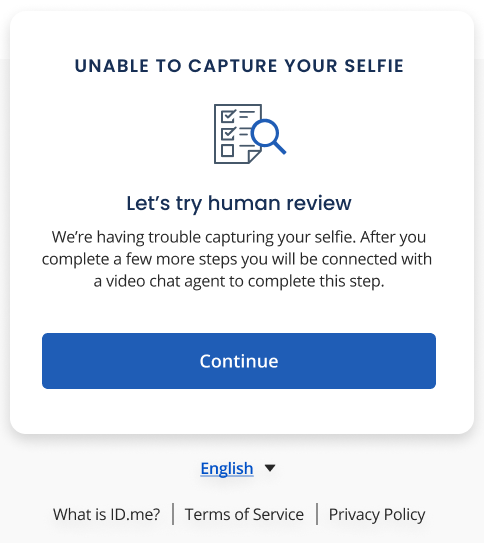 To finish submitting your selfie:
Select

Continue

and enter additional information.

After completing the rest of the Self-Service steps, select

Join video call

.





Note:

Once you see this screen, you can return to complete your video call at any time. If you cannot connect to your video call, you will also receive an email to return at your convenience.

After you finish your video call, ID.me will send you an email with important next steps to complete the verification process. Be sure to follow the steps carefully to complete your verification.